Think of brand strategy as the blueprint to building a company's long term brand story.
There is a crucial first step towards tailoring a long term branding strategy. This involves figuring out who the customer base is. Successful strategic branding cannot be about anything else.
"If you form a strategy without research, your brand will barely float.
And at the speed industries move at today, brands sink fast."

Ryan Holmes
The Core Element is the Logo
At the core of every brand name is one crystalising element: the logo design.
Every strategy relies on this powerful but often overlooked foundational piece. The best brand narratives are wrapped around the logo. It is the start of building a cohesive brand identity around a business's product or service.
Every business, regardless of size and reach, needs a strong brand strategy. This is the only way to maintain its brand identity.
In terms of brand case studies, consider The Breakfast Club. Their origin story begins in Nottingham, England in 2016. It all began as a bit of fun for a group of friends who love the full English breakfast. Soon enough it grew into a full-fledged worldwide phenomenon.
Founder David Sharpe knew it was time for the brand to level up, and he approached the Red Kite Design team. Our mission was to create a modern, youthful, badge style emblem.
We wanted something that matched their energetic brand tagline: Breakfast of Chumpions.
And the result was something we believe captured the same fresh, rustic foodie aesthetic that breakfast lovers all over the world had connected with.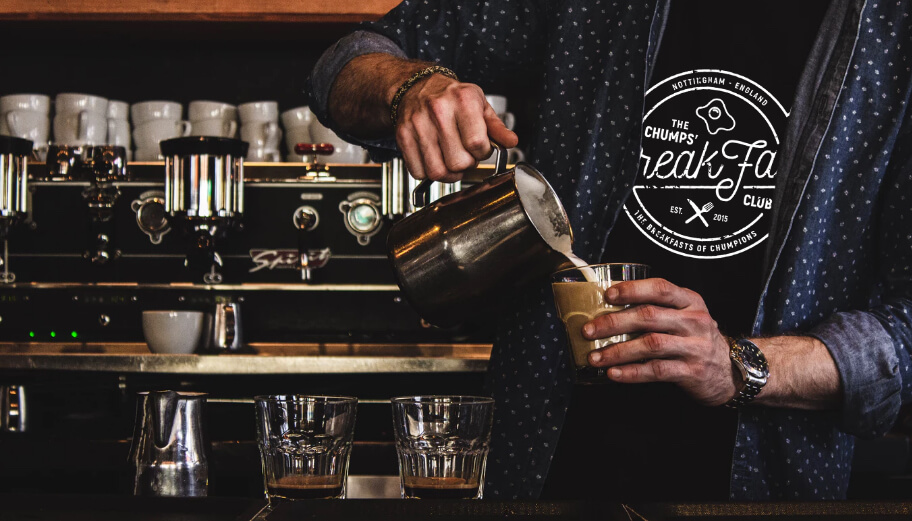 ---
Why Do You Need a Brand Strategy?
Audiences today seek deep brand connection. Smart brand strategies match these expectations. Consumer perception informs marketing strategy.
Loyalty is solidified by continuous business credibility in its delivery of products and the customer experiences people enjoy.
A brand strategy is important. It is the way to make sure that the marketing team maintains clarity on key areas including:
consumer expectations
business brand positioning or market share
unique selling proposition
competitor activities
Well defined brand strategies create strong foundations. They allow a company to make the most informed choices. This is critical for its business development.
Legacy brands like Coca Cola understand the power of solid brand foundation building.
This is one example of a brand that needs no introduction. Its market positioning can only be compared to other legacy brands. These include names like Starbucks, Apple Inc or Nike.
We know each of these brand colours and we are familiar with their branding logos. And yet, they keep producing what we can arguably define as some of the most heartwarming advertisements.
A successful branding strategy is built on consumer needs. There is a reason for branding strategies that treat the consumer as the star of the show. They earn a lifetime of priceless loyalty.
"A brand is no longer what we tell the consumer it is—it is what consumers tell each other it is."

Scott Cook
There are three main components concerning the strategies of branding. They encompass long term marketing efforts. They include:
Purpose. What the business is about and the target consumer profile.
Consistency. A strategy towards maintaining service delivery and ongoing brand identity
Emotional Impact. A conscious marketing effort to establish and maintain a bond with consumers.
A branding strategy is crucial because it:
Defines the company purpose.
Boosts brand recognition.
Reflects back on company culture.
Increases business value.
Enhances employee satisfaction.
Attracts new customers.
Provides advertising and marketing support.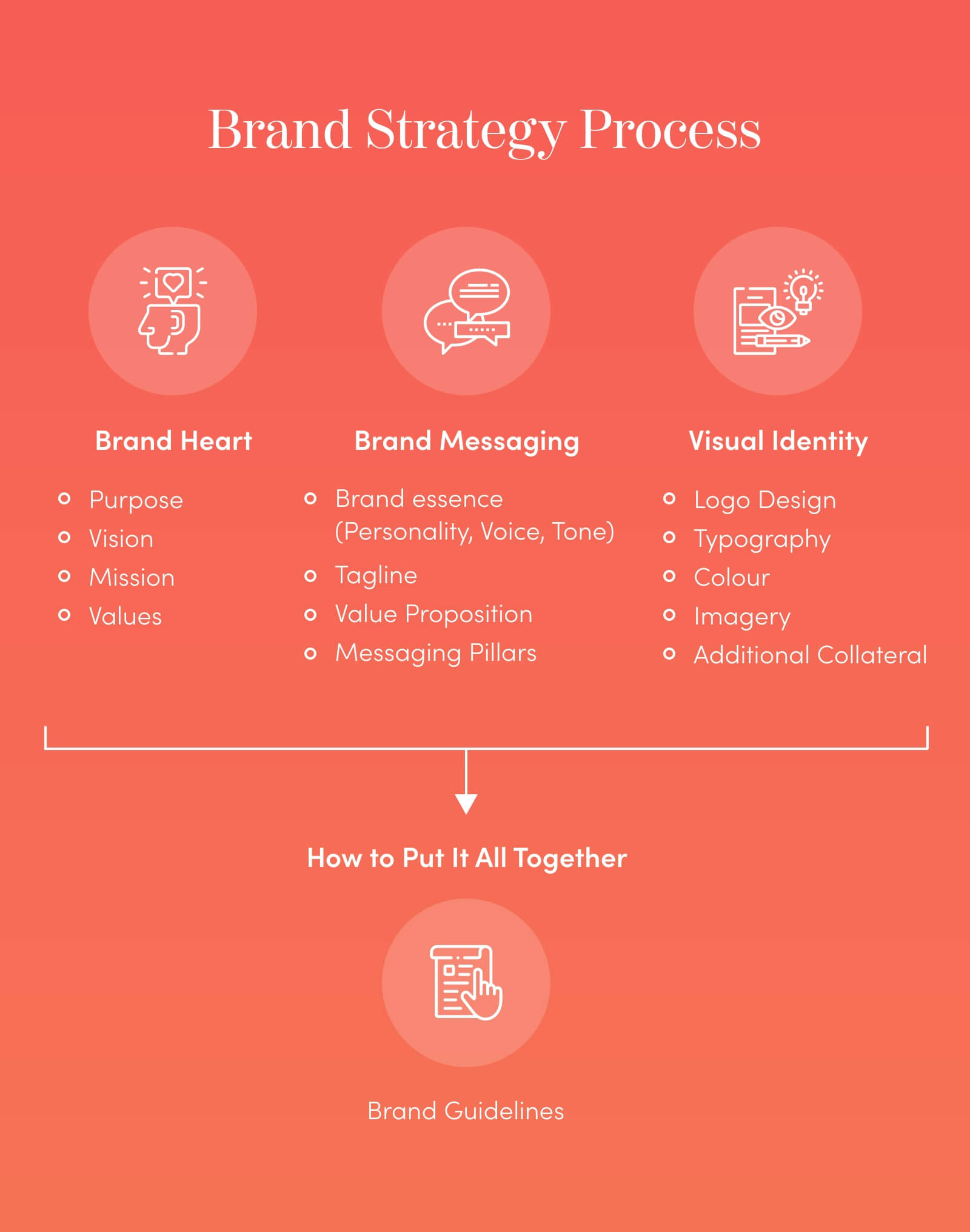 ---
The Components of Creating a Tailored Brand Strategy
All brand managers have this secret. They make sure that their brand development process reflects the business' brand goals.
As a result, all branding efforts follow the brand's carefully curated personality traits while thinking about the audience affected.
As firms begin the work of creating a strong brand, most of them follow three simple phrases:
Aligning the brand strategy with existing business objectives.
Developing marketing tools required to communicate brand messaging.
Strengthening the brand and the business strategy.
The brand strategy process usually involves these key components:
Target Audiences
The best brand strategy is one with a narrow audience focus. An audience pool that is too diverse dilutes brand messaging.
Each business should define who the target customers are. The next step is figuring out how to communicate with them in an effective way.
Deep research gives insight into consumer priorities and pain points. It helps brands anticipate client needs and frame their messages in the right tone.
Research also proves important insight into how the public sees you. This knowledge can significantly lower marketing risks related to brand strategy and development processes.
To determine the brand strategy, break down the audience into segments. These are:
Age
Key social interests
Why they should buy from you
Career profiles
Personal hobbies
Income brackets
Having a solid audience profile is the best strategy. It helps to frame key marketing material and messaging.
Brand Positioning
Brand positioning refers to the main impression your customers have about your brand.
When your name comes up do they go blank? Do they feel hungry? Do they smile? Do they think about the experiences and benefits of interacting your brand?
One way to differentiate yourself from your competition is a positioning statement.
These questions will help any business figure out their positioning statement:
Do I know and understand the audience?
What services or products do we provide?
What is our biggest advantage as a business?
Do we have evidence to support the above?
Positioning statements are succinct. They are at most between three to five sentences maximum. It is both aspirational and realistic. It is a business promise that must be kept.
Brand Messaging and Story
The story begins with the logo. Research shows that the simplest logos resonate the most.
The design process considers how human beings process visual elements. We each assign meaning to different shapes, colours and images based on our social biases.
A business' audience is multilayered. It involves:
Existing and potential customers
Current and future employees
Mainstream media
Social media influencers
Partners, investors and other internal stakeholders
The core brand strategy should have a baseline for all the above audiences. But, it is important to differentiate the messaging. Craft it to suit the aspects that appeal to each demographic.
Each message will have the right emphasis on the areas most relevant to them. For example, a blog post will not have the same text length as a social media post. But the message could be related.
The brand strategy will detail how to address their specific concerns. It will also include visual aids or evidence needed to support each campaign.
These considerations make a brand strategy more relevant to the target audience.
It is also important to note that a logo and its tagline is not a company's brand entity or complete identity. It is, however, a powerful definitive symbol.
When designing a new logo do not rely on internal company consensus. The brand name, logo and tagline are not personal projects. They are meant for your audience.
The consumer base loves a good story, and your brand strategy needs to factor this in.
All companies make the promise to give customers the best experience. The brand story and all the resulting content is how to sell this promise.
The brand strategy is therefore all about creating an origin story. It should describe how the company was conceived in a compelling manner.
The narrative should be captivating and realistic. You could factor in some challenges related to starting out. That is a great way to elicit empathy from the audience while inspiring them too.
A company's story should stay in the minds of the customers. From every time they buy something from you to whenever they see any elements of your brand.
However, remember to keep your story consumer centred. Your brand is only as strong as the connection your audience has with it.
Brand Consistency
The final piece of brand strategy is reinforcing the business' brand positioning.
The messaging tone and intention have to be consistent no matter the medium. From the number of times you use the brand voice to how many social media posts you post each month.
Consistency also means discussing topics that directly relate to the business purpose.
From the tone used to reply to customer emails or updating the company website. They should reinforce the brand positioning.
The brand guidelines should be your messaging guide. They should help you create a style guide for the different areas of content you use.
The more consistently you craft your key messages the better it will be for your branding. You should be able to create a sense of awareness about who you are and what you believe in as a company.
Be careful about vague messaging. This opens up the brand to a varied interpretation and in some cases, people may "edit" your intended meaning.
A brand personality that keeps changing will only be confusing for everyone. All business should, therefore, establish consistent standards across the board.
---
Define Your Brand Strategy With the Right Team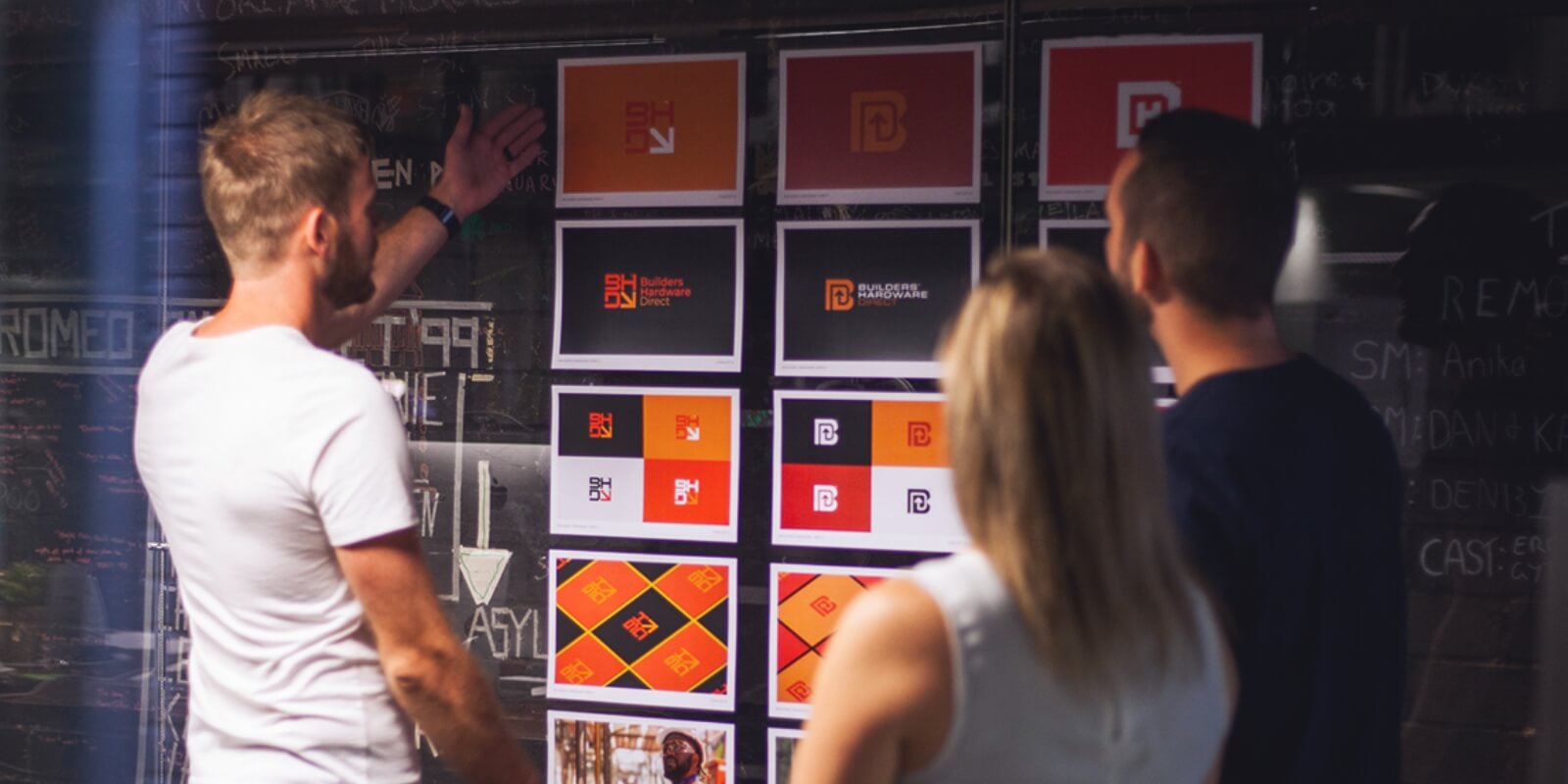 By now you realise that the way to protect your business from future stagnation is by creating an effective branding and marketing strategy.
Have you been simply winging it? It's time for a stronger positioning strategy. Remember that all consumers connect with brands for these main reasons:
Great product and service delivery
Competitive pricing models
Brand relatability on social media
Overall brand identity and company culture
A well-articulated strategy with a practical focus on the competition will no doubt endear your target audience to you. A plan of execution that keeps your business goals top of mind will eventually solidify your business success.
But in order to create lifechanging brand elements, you need a dedicated, creative team.
At Red Kite Design, we look at each aspect of your vision to gain key insight into your brand strategy.
Whether its time for a business rebrand, a new social media look, or your first logo, we are here to bring your messaging to life.
Contact us to begin creating your company's new brand identity today.